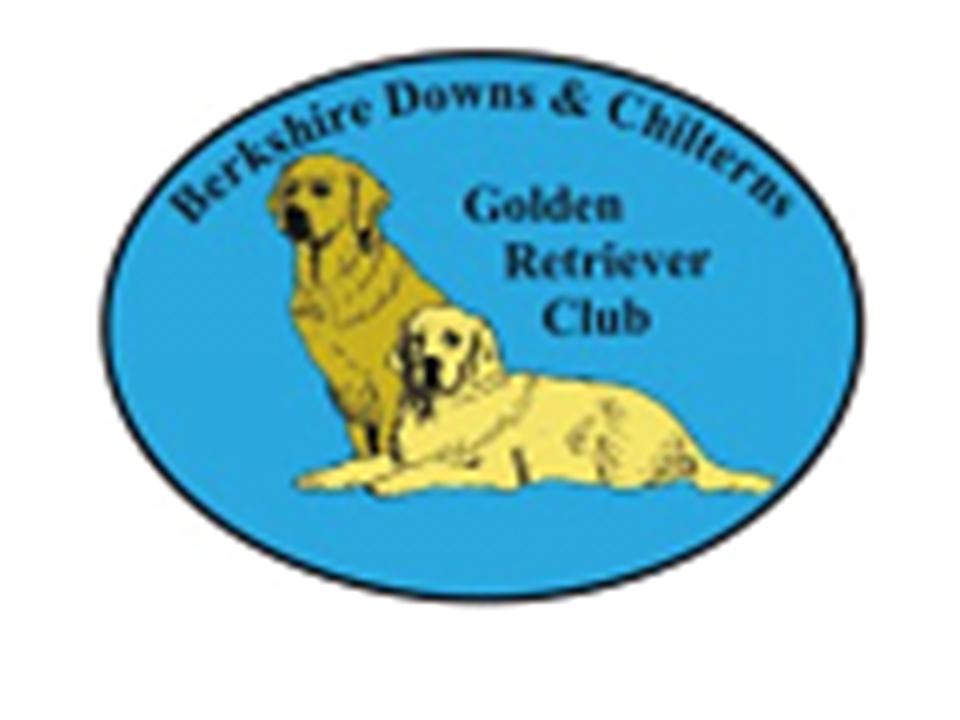 The logo was kindly drawn and given to the club by Janis Ward (Laurenley) and we thank her very much for it.
This is the Home Page for the Berkshire Downs and Chilterns Golden Retriever Club
Click on the Logo to enter.

BD&CGRC is a Golden Retriever Breed Club with approximately 300 members. The friendly Committee comprises members with over 150 years of dedicated service to the club between them. That doesn't sound a lot, but when you realise that they total only eight in number, it does put things into perspective.
It also highlights our need for members to commit to joining the Committee. It does not require too much effort, just devoting five to seven days a year to Club activities, and four evenings for meetings.
We celebrate our 40th Birthday in 2018, and hope to put on events to mark that occasion. To do that we need additional help. If you are a member and can or would like to help in the organisation of those events, please contact a Committee Member, or email general@bdcgrc.org.uk
09-Nov-2017
As well as holding our usual Open and Championship shows this year, we had two successful Field Trials, one at Cuffley in September, the other at Checkley in October.
With a committee reduced now to only eight this has been a busy time for all. I would like to thank them all for their commitment and hard work during the last six months.
Resuld and a few photographs can be found
here
.
DJL
08-Nov-2017
We had an enjoyable Championship Show at The Kennel Club Building, Stoneleigh Park, on 5th November.
Dogs judged by Mrs. Jane Wild, Bitches judged by Miss Angie Cooper, Referee Dr Ruth Barbour
Photographs, with thanks to Mrs Carol Gilbert:
BITCH
first place winners
20-Sep-2017
At long last! After a few technical problems photographs (courtesy of Paula Hill) can now bee seen here:
28-Jul-2017
22-Jun-2017
Schedules and entry forms for our 2017 Field Trials can be found by clicking on the following links, or by post from Mrs. Jenny Bridges, Townsend House, Ullingswick, Herefordshire, HR1 3JQ (Telephone 01432 820312).
27-Mar-2017
Amendment to the earlier Events Calendar.
Field Trial at Checkley will be on 7th October and NOT 11th as first indicated.
27-Mar-2017
A reminder to members that the AGM will be held on 8th May, 2017, at Horspath Village Hall.
Full documentation will be provided in accordance with the Rules of the Club.
23-Feb-2017
Click here to see the
full results
from the Joint Golden Retriever Club Championship Show
08-Feb-2017
08-Feb-2017
BD&CGRC hosted the Joint Golden Retriever Clubs Championship Show at the Kennel Club building, Stoneleigh Park, on 5th February,2017.
It was a beautiful day outside, although a little chilly. Ringside the atmosphere was convivial and by the comments received a good number of people enjoyed themselves.
Thank you all for coming and making the day a success for the Club.
Summary of results is shown below. A complete list will follow shortly.
[As and aside "Greg" arrived home safely (with his Showing Kit) without incurring a puncture!]
The results below originate from Golden Results UK on Facebook ©
Whilst great care is taken compiling these results, Golden Results UK cannot guarantee their accuracy.

Dog Judge: Mrs Pat Easton (Eastonwood)
Bitch Judge: Mrs Sally Roberts (Vanzela)
Referee: Mr R Maynard (Chinnordale)
BEST IN SHOW Dunbar Ms Irene & Miss Linsey LINIRGOR BRAIDWYNN JE T'AIME JW
RESERVE BEST IN SHOW Stevens Ms S & Hadden Mr M SH CH/IR SH CH GUNHILLS JANUARY MASTER JW ShCM
BEST OPPOSITE SEX Stevens Ms S & Hadden Mr M SH CH/IR SH CH GUNHILLS JANUARY MASTER JW ShCM
BEST PUPPY Drury Mr PJ & Mrs P BENCOE HONKY TONK WOMAN
BEST OPPOSITE SEX PUPPY Zubair Mrs SM & Loach Miss SA BILLY ELLIOT DE RIA VELA (IMP ESP)
BEST SPECIAL VETERAN Stevens Ms S & Hadden Mr M SH CH/IR SH CH GUNHILLS JANUARY MASTER JW ShCM
DOG CC Stevens Ms S & Hadden Mr M SH CH/IR SH CH GUNHILLS JANUARY MASTER JW ShCM
RESERVE DOG CC Broadhead Mr P & Mrs JD MONCHIQUE PURE IMAGINATION JW
BEST DOG PUPPY Zubair Mrs SM & Loach Miss SA BILLY ELLIOT DE RIA VELA (IMP ESP)
BITCH CC Dunbar Ms Irene & Miss Linsey LINIRGOR BRAIDWYNN JE T'AIME JW
RESERVE BITCH CC Clarkson Mrs FM DRUMKILTY HIBERNIA JW
BEST BITCH PUPPY Drury Mr PJ & Mrs P BENCOE HONKY TONK WOMAN