Liz Fisher, Show Secretary, would like to hear from anyone who has donated a cup to the club for its shows. Due to so few people taking cups from shows these days it has been decided to just award the main winners. Therefore we would like to either return the cups to the person who donated them or make arrangements to donate them to other events. Contact details as below.
21-Nov-2016
JOINT CHAMPIONSHIP SHOW - hosted by BD&CGRC
We are hosting the Joint Championship Show on Sunday, 5th February, 2017 at the Kennel Club Building. Schedules will be available shortly.
Judges - Dogs: Mrs Pat Easton, Bitches: Mrs Sally Roberts, Referee: Mr Roy Maynard.
Entry for the Special Veteran Classes are FREE. Veteran is the first calss of the day, after that they can relax and enjoy. So, bring your old ladies and gentlemen for a day out.
There will be a Puppy Walk (4 to 6 months) at lunch time, I'm sure with some special prizes for the babies - judge will be announced on the day.
There will be another of Gloria's Gigantic Raffles.
We look forward to seeing you.
CHAMPIONSHIP SHOW, 6th November, 2016, The Kennel Club Building, Stoneleigh Park.
A very successful Championship Show was held at the KC Building. Dog Judge was Mrs Pauline Bevis. Bitches were judged by Mrs Gloria Gargan.
Top winners were:
BEST IN SHOW Zubair Mrs SM THORNYWAIT PEARLIE QUEEN
RESERVE BEST IN SHOW Wild Mrs Jane SH CH FENWOOD ELL MASTERPIECE AT BLUEWATERS JW
BEST PUPPY Fenn Mrs D CHALKSVILLE BARREGARROW AT JANDEBURN JW
BEST SPECIAL VETERAN Turner Miss Ruth AMILONE BETTY BOOP
FINAL LINE UP (photo by Mrs Carol Gilbert)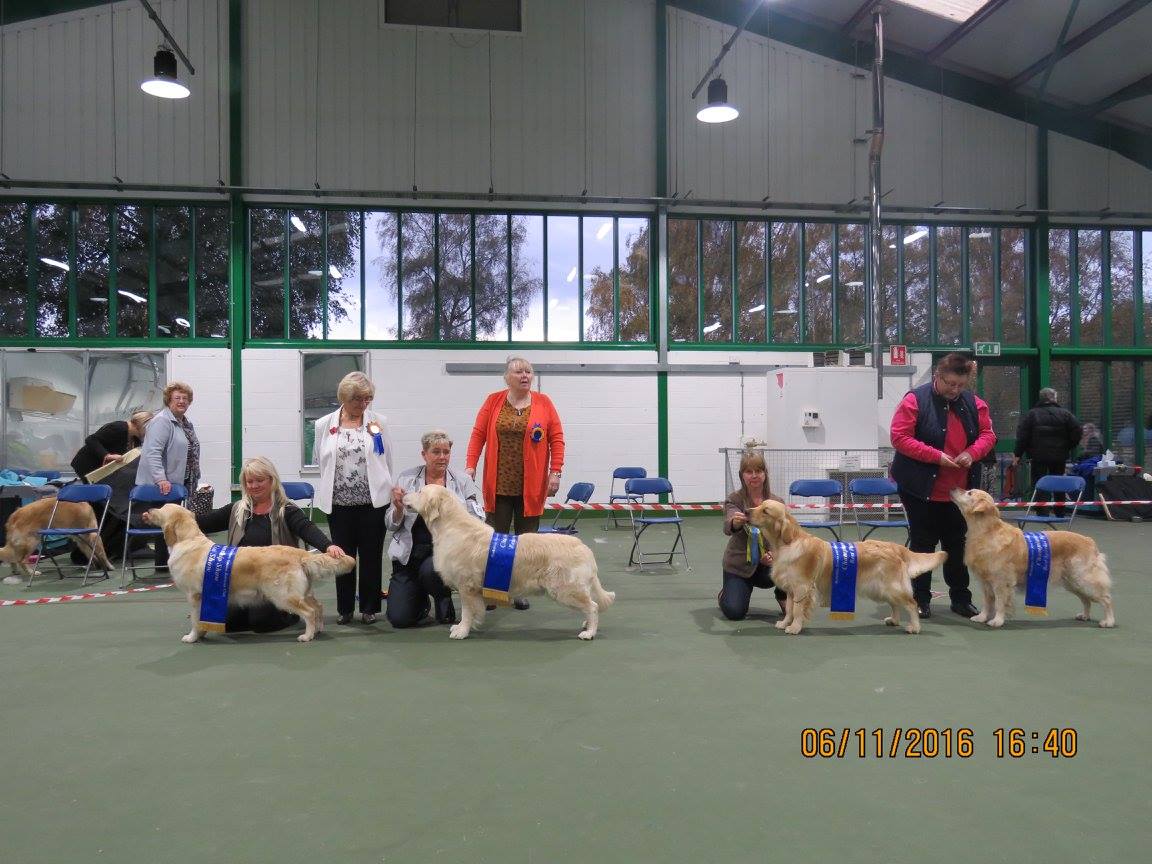 OPEN SHOW WITH LIMITED OBEDIENCE 2016
Our Open show with Limited Obedience was staged on 17th July, at Horspath Village Hall.
Breed Judge was Miss Nancy Bassant, Obedience judges were Mrs Alison Lui (Pre-Beginners, Novice and Multi-Choice) and Mr Mike Molony (Beginners, Class A).