OPEN SHOW - SATURDAY, 6 JULY 2013
At Horspath Village Hall, Oxford Road, Horspath, Cowley, Oxford OX33 1RT

BREED JUDGE: Mrs Jenny Johnson (Jenric)

OBEDIENCE JUDGES: Mrs M Kirk and Mr R Alexander
We held our annual open show on a lovely hot day, the atmosphere was like a garden party where everyone seemed to join in and enjoy the lovely day. The Berkshire Belles worked their socks off providing everyone with lovely food and there was strawberries and cream available for tea.
Results
Results originate from Golden_Results and have been prepared using the Suekelle database.
Permission is granted to pass on to non-group members.
Please Contact
golden_results-owner@yahoogroups.com
if you wish to join Golden_Results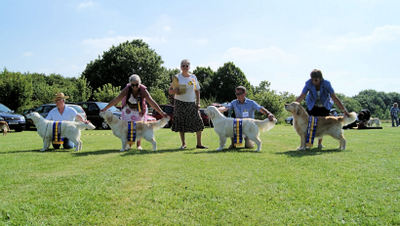 BEST IN SHOW Mannings Mr D LASTCHANCE OF BRIDGE FOUR WITH GATCHELLS (IMP BEL)
RESERVE BEST IN SHOW Clarke Mrs VB OUSEVALE WHERE ITS AT JW
BEST OPPOSITE SEX Gulliver Mrs S TONARA YUKON
BEST PUPPY Wheeldon Mr M & Mrs I THORNYWAIT FAME 'N FORTUNE FOR CATNELS
BEST VETERAN Carter Mrs CA CANALEIGH HOT GOSPEL JW ShCM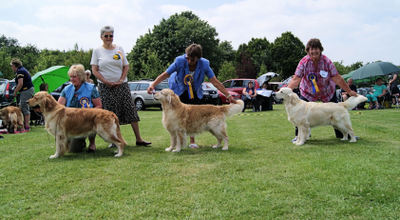 BEST DOG Gulliver Mrs S TONARA YUKON
RESERVE BEST DOG Carter Mrs CA CANALEIGH HOT GOSPEL JW ShCM
BEST PUPPY DOG Chapman Mr BM & Mrs MV KIDSTON PHOENIX
BEST VETERAN DOG Carter Mrs CA CANALEIGH HOT GOSPEL JW ShCM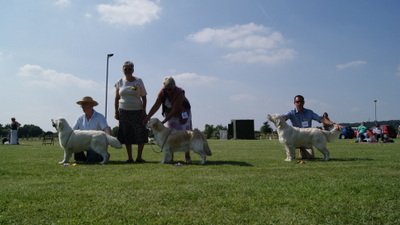 BEST BITCH Mannings Mr D LASTCHANCE OF BRIDGE FOUR WITH GATCHELLS (IMP BEL)
RESERVE BEST BITCH Clarke Mrs VB OUSEVALE WHERE ITS AT JW
BEST PUPPY BITCH Wheeldon Mr M & Mrs I THORNYWAIT FAME 'N FORTUNE FOR CATNNELS
BEST VETERAN BITCH Tuck Mrs P TAVASAR TIARELLA TO TAMSBROOK JW


VETERAN DOG (14 Entries, 6 Absent)
1st Carter Mrs CA CANALEIGH HOT GOSPEL JW ShCM
(Steval Soul Singer x Canaleigh Indian Summer)
2nd Thurgood Mrs PS PECOLSTONE PERFECT LORD ShCM
(Ch Xanthos Black Thorn JW x Pecolstone Pearly Queen)
3rd Hill Miss P & Mrs S GILLBRYAN READY FOR TAKE OFF TO SANDAULA ShCM
(Gillbryan Water Bailiff JW x Gillbryan Maybe The Mayfly)
Res Foster Mrs AP LEAFORD FREIA BY TINPOLSETH
(Tinpolseth Ruby Charmer x Leaford Going For Gold)


MINOR PUPPY DOG (6 Entries,0 Absent)
1st Clarke Mrs VB OUSEVALE XWHYZED
(Sh Ch Erinderry Just The Ticket From Bluewaters JW x Ousevale Where Its At JW)
2nd Forrest Mr KM FELI FEY FLYING DUTCHMAN
(Xanthos Mondriaan x Goldstrike Wild Cherry)
3rd Bufton Mrs L & Riley Mrs S WYLLOH MR BOJANGLES
(Shaphiron Jokers Wild JW x Wylloh Maggie May)
Res Kinmond Mr LD & Mrs CS FERNWYCHE FIRST N'FOREMOST
(Siatham Fredric Top Hat x Fernwyche Bluebell Mist)
Vhc Smith Mrs J CANALEIGH MERLOT
(Largymore Burraigh At Steval x Canaleigh Bellinitini)

PUPPY DOG (6 Entries, 1 Absent)
1st Chapman Mr BM & Mrs MV KIDSTON PHOENIX
(Ritzilyn Doctor Pepper JW x Cassatess Just Heaven Sent To Kidston JW)
2nd Clarke Mrs VB OUSEVALE XWHYZED
(Sh Ch Erinderry Just The Ticket From Bluewaters JW x Ousevale Where Its At JW)
3rd Forrest Mr KM FELI FEY FLYING DUTCHMAN
(Xanthos Mondriaan x Goldstrike Wild Cherry)
Res Meadows Mrs K MERIMOOR MELTING GOLD
(Thornywait One Step Beyond Putjade x Merimoor Mica)
Vhc Kinmond Mr LD & Mrs CS FERNWYCHE FIRST N'FOREMOST
(Siatham Fredric Top Hat x Fernwyche Bluebell Mist)

JUNIOR DOG (12 Entries, 3 Absent)
1st Keene Mr JC & Mrs EM SHINEHILL DIAMOND JACK
(Ch Tesoro De Ria Vela For Thornywait (Imp Esp) JW x Shinehill Sybil's Sister)
2nd Merrick Mr JE, Mrs JN & Miss J STORMERICK BOBBY SHAFTO
(Ch Stormerick Don Sebastian JW ShCM x Stormerick Sophia)
3rd Carter Mrs CA AZTECA FINAL ALLIANCE
(Canaleigh Hot Gospel JW ShCM x Azteca Valentia)
Res Tuck Mrs P TAMSBROOK TAKE THAT
(Sh Ch Zampanzar Say It Again Shardanell (Imp Esp) JW x Tavasar Tiarella To Tamsbrook)
Vhc Williams Miss KJ CATCOMBE COUNTRY TZAR
(Catcombe Challenger JW x Catcombe Cherry Tart JW)

YEARLING DOG (5 Entries, 1 Absent)
1st Coward Mrs D ROSINANTE RIGADOON AT FIELDACRE
(Pandreft Alfriedo JW x Rosinante Mustique)
2nd Baker Mr CG & Mrs LJ WYNRITA WITCHFINDER JW
(Swe Ch Floprym Rivaldo (Imp Swe) x Ritzilyn Hot Totty At Wynrita)
3rd Merrick Mr JE, Mrs JN & Miss J STORMERICK BOBBY SHAFTO
(Ch Stormerick Don Sebastian JW ShCM x Stormerick Sophia)
Res Todd Mrs P TODDROSA DREAM AHEAD
(Mister Bean I Call Your Name x Jessibelle Love In A Mist For Toddrosa)

NOVICE DOG (7 Entries, 1 Absent)
1st Keene Mr JC & Mrs EM SHINEHILL DIAMOND JACK
(Ch Tesoro De Ria Vela For Thornywait (Imp Esp) JW x Shinehill Sybil's Sister)
2nd Carter Mrs CA AZTECA FINAL ALLIANCE
(Canaleigh Hot Gospel JW ShCM x Azteca Valentia)
3rd Williams Miss KJ CATCOMBE COUNTRY TZAR
(Catcombe Challenger JW x Catcombe Cherry Tart JW)
Res Clarke Mrs SB & Mr R LAVANDE ROYAL WILLIAM
(Sh Ch Zampanzar Say It Again Shardanell (Imp Esp) JW x Mulfield Dominica For Lavande)
Vhc Rose Mr MF & Mrs DG AZTECA ROCKET MAN
(Azteca April Quest JW x Gaytonwood Pollyanna For Azteca)

UNDERGRADUATE DOG (12 Entries, 4 Absent)
1st Keene Mr JC & Mrs EM SHINEHILL DIAMOND JACK
(Ch Tesoro De Ria Vela For Thornywait (Imp Esp) JW x Shinehill Sybil's Sister)
2nd Murphy Mr & Mrs AF AMBERGOLD FRANKIE
(Trebettyn Teryrnon To Tannadice JW x Catcombe Cameo By Ambergold)
3rd Morss Mrs HVG XANTHOS FERRARI JW
(It Ch Pinkerly Valmont x Xanthos Firenze JW)
Res Merrick Mr JE, Mrs JN & Miss J STORMERICK BOBBY SHAFTO
(Ch Stormerick Don Sebastian JW ShCM x Stormerick Sophia)
Vhc Carter Mrs CA AZTECA FINAL ALLIANCE
(Canaleigh Hot Gospel JW ShCM x Azteca Valentia)

GRADUATE DOG (6 Entries, 0 Absent)
1st Gulliver Mrs S TONARA YUKON
(Ch Tesoro De Ria Vela For Thornywait (Imp Esp) JW x Dreaming Delight At Tonara JW)
2nd Thurgood Mrs PS JENAWAY BONNIE PRINCE OF PECOLSTONE
(Pecolstone Prince Of Peace x Summer Promise Over Jenaway)
3rd Nicholls Mrs M & Mr K LARGYMORE JUST WILLIAM
(Sh Ch Ir Sh Ch Flyngalee Northern Lights JW ShCM x Largymore Lady Brachla JW)
Res Norris Mrs S XANTHOS MILOS COLUMBO JW
(Ch Xanthos Espionage JW x Xanthos Jaipur)
Vhc Wiseman Mrs H ZENEVIEVA TOP SECRET
(Sh Ch Ritzilyn Brandon JW x Fairfield Floral Mystery At Zenevieva)

POST GRADUATE DOG (11 Entries, 2 Absent)
1st Hill Miss P & Mrs S DRUMKILTY TAKE THE HIGH ROAD TO SANDAULA JW
(Sh Ch Linirgor Mactavish x Drumkilty Quintessence)
2nd Baker Mr CG & Mrs LJ RITZILYN DIAMOND JACK
(Sh Ch Ritzilyn Brandon JW x Sh Ch Ritzilyn Rinky Dink JW)
3rd Lade Mr DJ & Mrs MB & Wicklow Mr B & Mrs G GILLBRYAN SINGAPORE SLING WITH MANTONDEAN
(Sh Ch Gillbryan Any Dream Will Do JW x Gillbryan Magdalena)
Res Falconer Mrs AE SONEVE SIMPLY RED BY SIATHAM
(Sh Ch Ritzilyn Brandon JW x Soneve Scarlett)
Vhc Linfield Mrs LC TONARA RIO GRANDE JW
(Ch Tesoro De Ria Vela For Thornywait (Imp Esp) JW x Dreaming Delight At Tonara JW)

LIMIT DOG (7 Entries, 1 Absent)
1st Skinner Miss SA SAINTCLOUD SAVILLE
(Nunsbrook Curlew JW x Portcullis Givenchy At Saintcloud)
2nd Bufton Mrs L WYLLOH DARK SIDE OF THE MOON ShCM
(Ch Chinnordale Kirriebillie JW x Wylloh Starlight Express)
3rd Nicholls Mrs M & Mr K LARGYMORE LOCHRUAN JW
(Largymore Marcus x Largymore Tui)
Res Glascott Mr K & Mrs HE FOLDERSLANE KNIGHT HAWK
(Verdayne Marsh Harrier x Folderslane Summer Knights)
Vhc Stevens Mrs TA SUMMERAMBA FIRST ENCOUNTER
(Sh Ch Summeramba Stilton JW x Summeramba Classical)

OPEN DOG (7 Entries, 3 Absent)
1st Gripton Mr JWI & Mrs H SANSUE EXCALIBUR
(Sandusky Young Pretender JW x Sansue Chikara)
2nd Walker Mr AA & Mrs PM KENSALROAG ANGUS MACLEOD TO FALKESHALL ShCM
(Gunhills Dancing Trumpet To Coombstock x Kensalroag Petronella)
3rd Callow Ms AM KIDSTON TUTANKHAMEN OF CASSATESS
(Sh Ch Ritzilyn Brandon JW x Kidston Serendipity)
Res Humphrey Miss BM ABNALLS SHAMROCK
(Sh Ch Erinderry Just The Ticket From Bluewaters JW x Abnalls Isabella JW)

SPECIAL WORKING DOG (1 Entries, 0 Absent)
1st Rose Mr MF & Mrs DG AZTECA APRIL QUEST JW
(Amberland Aden x Dajumija K'tee For Azteca)

SPECIAL VETERAN BITCH (5 Entries ,1 Absent)
1st Tuck Mrs P TAVASAR TIARELLA TO TAMSBROOK JW
(Ch Bramhills Blake JW x Tamsbrook Tawny Day Lily Of Tavasar)
2nd Kimberley Mrs H FRIENDBORN DAINTY DACAPO
(Purbarn Hail In The Storm x Friendborn Chaos In Gold)
3rd Carpenter Mrs G WHITEFERN MISS BELIEF
(Royal Crest Gold N Luxury Edition Cum Lorincrest (Imp) x Whitefern Miss Behaving)
Res Foster Mrs AP LEAFORD FREIA BY TINPOLSETH
(Tinpolseth Ruby Charmer x Leaford Going For Gold)

MINOR PUPPY BITCH (12 Entries,2 Absent)
1st Clarke Mrs VB OUSEVALE XCUSE ME
(Sh Ch Erinderry Just The Ticket From Bluewaters JW x Ousevale Where Its At JW)
2nd Wooden Mrs P SALAKO LOVESONG
(Kapplandet's Shan Nan Ershiyi x Salako Chantilly Lace)
3rd Falconer Mrs AE STOURCREST SOLAR STORM AT SIATHAM
(Sh Ch Squirrelsmead Digby of Canina x Siatham Beatrice of Stourcrest)
Res Barnes Mrs SA & Zubair Mrs SM THORNYWAIT ISABELLA WITH MILLGREEN
(Kapplandets Shan Nan Ershiyi x Thornywait Billie Jean)
Vhc Linfield Mrs LC TONARA LEXINGTON
(Ch Tesoro De Ria Vela For Thornywait (Imp Esp) JW x Dreaming Delight At Tonara)

PUPPY BITCH (11 Entries,3 Absent)
1st Wheeldon Mr M & Mrs I THORNYWAIT FAME 'N FORTUNE FOR CATNNELS
(Sh Ch Zampanzar Say It Again Shardanell (Imp Esp) JW x Thornywait Pixie Crunch)
2nd Angell Mrs BA MILLANZA BEDTIME STORY
(Multi Ch Majik Truth Or Dare x Linirgor Oops I Did It Again At Millanza)
3rd Clarke Mrs VB OUSEVALE XCUSE ME
(Sh Ch Erinderry Just The Ticket From Bluewaters JW x Ousevale Where Its At JW)
Res Chapman Mr BM & Mrs MV KIDSTON PANDORA'S BOX
(Ritzilyn Doctor Pepper JW x Cassatess Just Heaven Sent To Kidston JW)
Vhc Keene Mr JC & Mrs EM SHINEHILL SUMMER EVE
(Sh Ch Zampanzar Say It Again Shardanell (Imp Esp) JW x Shinehill Summer Sonnet)

JUNIOR BITCH (12 Entries,4 Absent)
1st Mannings Mr D LASTCHANCE OF BRIDGE FOUR WITH GATCHELLS (IMP BEL)
(Sh Ch Zampanzar Say It Again Shardanell (Imp Esp) JW x Highlight Of Bridge Four)
2nd Edwards Mr & Mrs RJ LOWRI OF BRIDGE FOUR TO LOVEHAYNE (IMP BEL)
(Sh Ch Zampanzar Say It Again Shardanell (Imp Esp) JW x Highlight Of Bridge Four)
3rd Angell Mrs BA MILLANZA BEDTIME STORY
(Multi Ch Majik Truth Or Dare x Linirgor Oops I Did It Again At Millanza)
Res Bassant Mrs W & Ms N CRANCOTT JUST JANE WITH JESIRE
(Sh Ch Zampanzar Say It Again Shardanell (Imp Esp) JW x Crancott Love Story With Jesire)
Vhc Cole Mr PJ & Mrs LP ROOKSBURY FUZZY FELTS
(Rooksbury Cassanova x Rooksbury Echo)

YEARLING BITCH (8 Entries, 3 Absent)
1st Mannings Mr D LASTCHANCE OF BRIDGE FOUR WITH GATCHELLS (IMP BEL)
(Sh Ch Zampanzar Say It Again Shardanell (Imp Esp) JW x Highlight Of Bridge Four)
2nd Gell Mrs BE LEITHFIELD COCO CHANEL
(Willowlawn Entent Cordiale JW x Leithfield Miss Chanel JW)
3rd Bassant Mrs W & Ms N CRANCOTT JUST JANE WITH JESIRE
(Sh Ch Zampanzar Say It Again Shardanell (Imp Esp) JW x Crancott Love Story With Jesire)
Res Cole Mr PJ & Mrs LP ROOKSBURY FUZZY FELTS
(Rooksbury Cassanova x Rooksbury Echo)
Vhc Todd Mrs P TODDROSA OASIS DREAM
(Mister Bean I Call Your Name x Jessibelle Love In A Mist For Toddrosa)


NOVICE BITCH (9 Entries, 3 Absent)
1st Mannings Mr D LASTCHANCE OF BRIDGE FOUR WITH GATCHELLS (IMP BEL)
(Sh Ch Zampanzar Say It Again Shardanell (Imp Esp) JW x Highlight Of Bridge Four)
2nd Edwards Mr & Mrs RJ LOWRI OF BRIDGE FOUR TO LOVEHAYNE (IMP BEL)
(Sh Ch Zampanzar Say It Again Shardanell (Imp Esp) JW x Highlight Of Bridge Four)
3rd Wheeldon Mr M & Mrs I THORNYWAIT FAME 'N FORTUNE FOR CATNELS
(Sh Ch Zampanzar Say It Again Shardanell (Imp Esp) JW x Thornywait Pixie Crunch)
Res Gell Mrs BE LEITHFIELD COCO CHANEL
(Willowlawn Entent Cordiale JW x Leithfield Miss Chanel JW)
Vhc Doe Ms TM CHAESGOLD DIZZY HEIGHTS
(Thornywait Trademark For Canina JW x Chaesgold Bewitched with Briarsvale)

UNDERGRADUATE BITCH (10 Entries, 5 Absent)
1st Mannings Mr D LASTCHANCE OF BRIDGE FOUR WITH GATCHELLS (IMP BEL)
(Sh Ch Zampanzar Say It Again Shardanell (Imp Esp) JW x Highlight Of Bridge Four)
2nd Edwards Mr & Mrs RJ LOWRI OF BRIDGE FOUR TO LOVEHAYNE (IMP BEL)
(Sh Ch Zampanzar Say It Again Shardanell (Imp Esp) JW x Highlight Of Bridge Four)
3rd Angell Mrs BA MILLANZA BEDTIME STORY
(Multi Ch Majik Truth Or Dare x Linirgor Oops I Did It Again At Millanza)
Res Carpenter Ms G WHITFERN HONESTY
(Rosinante Loverboy By Tannadice x Whitefern Miss Loyalty)
Vhc Todd Mrs P TODDROSA OASIS DREAM
(Mister Bean I Call Your Name x Jessibelle Love In A Mist For Toddrosa)

GRADUATE BITCH (10 Entries, 1 Absent)
1st Atha Mrs GM TORSINKI DANCING FLAME
(Ch Tesoro De Ria Vela For Thornywait (Imp Esp) JW x Torsinki Dancing Melody JW)
2nd Rees Mrs KA DASMAKS ELLADORAH
(Sh Ch Zampanzar Say It Again Shardanell (Imp Esp) JW x Sh Ch Xanthos Holly Holland At Dasmaks)
3rd Froud Ms Y MAFLEURDEAN ROSIE DAWN
(Sh Ch Muskan Make My Day JW ShCM x Kenocto Nutmeg Fleur)
Res Hammond Mrs M MERIMOOR MALARKY
(Gracewood Inspiration For Putjade x Merimoor Lavender Blue)
Vhc Joy Mrs M SHINEHILL TIANNA BY SHARDANELL
(Sh Ch Zampanzar Say It Again Shardanell (Imp Esp) JW x Shinehill Summer Sonnet)

POST GRADUATE BITCH (12 Entries,6 Absent)
1st Hughes Mrs N AYMSBURY AURORA
(Swe Sh Ch Floprym Rivaldo (Imp Swe) x Aymsbury Anastasia)
2nd Tuck Mrs P TAMSBROOK TIMOTAE
(Tamsbrook Tuscany JW x Tavasar Tiarella To Tamsbrook)
3rd Oldring Dr J & Mrs C FENWOOD VICTORIA BECKHAM AT FLAXENGOLD
(Dasmaks Hugoboss Of Fenwood JW x Fenwood Prada)
Res Stallard Mrs A DEVONIVY AQUARIAN JEWEL AT MAPLEROSE
(Ch Captain Finn At Steval JW x Artemisia Vanilla Silk At Devonivy)
Vhc Cooper Miss Angela G DIKEADAZE TAH DAH
(Dikeadaze Sunkissed JW x Dikeadaze Not Guilty JW)

LIMIT BITCH (10 Entries, 5 Absent)
1st Clarke Mrs VB OUSEVALE WHERE ITS AT JW
(Sh Ch Muskan Make My Day JW ShCM x Ousevale Tickety Boo)
2nd Gayler Mrs Penny D CAROLAKE IN DEMAND JW
(Sh Ch Ritzilyn Brandon JW x Stanroph Endelwood Natasha JW ShCM)
3rd Cole Mr PJ & Mrs LP ROOKSBURY LA ROUX
(Sh Ch Gillbryan Any Dream Will Do JW x Rooksbury Spirit Of Ashling)
Res Stallard Mrs A DEVONIVY AQUARIAN JEWEL AT MAPLEROSE
(Ch Captain Finn At Steval JW x Artemisia Vanilla Silk At Devonivy)
Vhc Williams Mrs Y WILGEM STARLITE SILHOUETTE
(Chalksville Pipe Major At Trebettyn ShCM x Wilgem Uptown Girl)

OPEN BITCH (5 Entries, 3 Absent)
1st Williams Mrs Y WILGEM STARLIGHT CASCADE
(Chalksville Pipe Major At Trebettyn ShCM x Wilgem Uptown Girl)
2nd Marshall Mr T & Rickards Mrs D ROCKING DANCING QUEEN OF MEONCROFT
(Ch Chinnordale Rockhopper JW x Kensalroag Mary Douglas)


SPECIAL WORKING BITCH (4 Entries ,0 Absent)
1st Gayler Mrs Penny D CAROLAKE LOVE AND KISSES JW
(Sh Ch Goldenquest Ambassador JW x Carolake Hide And Seek JW)
2nd Kimberley Mrs H FRIENDBORN DAINTY DACAPO
(Purbarn Hail In The Storm x Friendborn Chaos In Gold)
3rd Marshall Mr T & Rickards Mrs D TAMSBROOK TIMOTHEA OF MEONCROFT
(Sh Ch/Swe Sh Ch Lindjan Xylonite x Tamsbrook Tilly Trotter)
Res Philpott Mr M SAMPSFORD MORWENNA OF STANDERWICK
(Holway Banjo x Birdsgreen Simple Marble Of Sampsford)